Color Editor
We are Color Editor, as our passion for color is in our DNA.
All of our clients seek out the perfect color, the one to sustainably improve their home and work environments in harmony with themselves.
We aim to bring it to them.
To achieve it, the art of our teams is to be a human end-to-end chain of skills to produce a color as wished by our client, pro or private, on his office wall, his home living-room or his building.
Find our Cromology Fandeck in all Points Of Sale of our brands Tollens and Zolpan and by our independant distributors.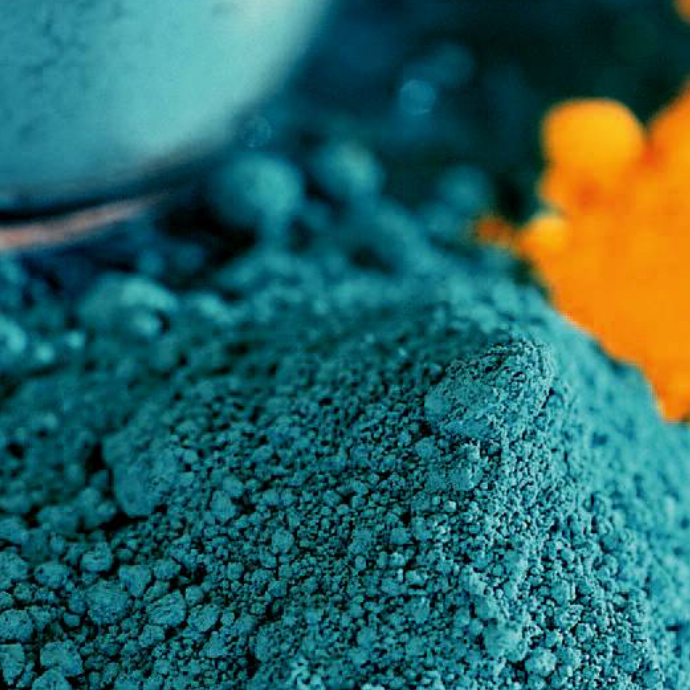 Our Sourcing in Color Components
To create colors, we source pigment tastes based on pigments, natural and synthetic, mineral or organic, from a selection of suppliers. Pigments choice is key to reproduce a tint over time and in all type of productions, for example, from large scale industrial one to 1-Liter in Points of Sale.
We have precise specifications to guarantee the compliance of pigments with application regulations.
To reproduce colours, we work with suppliers in tinting system who address our high level of quality and our requirements in abilities for technological innovation.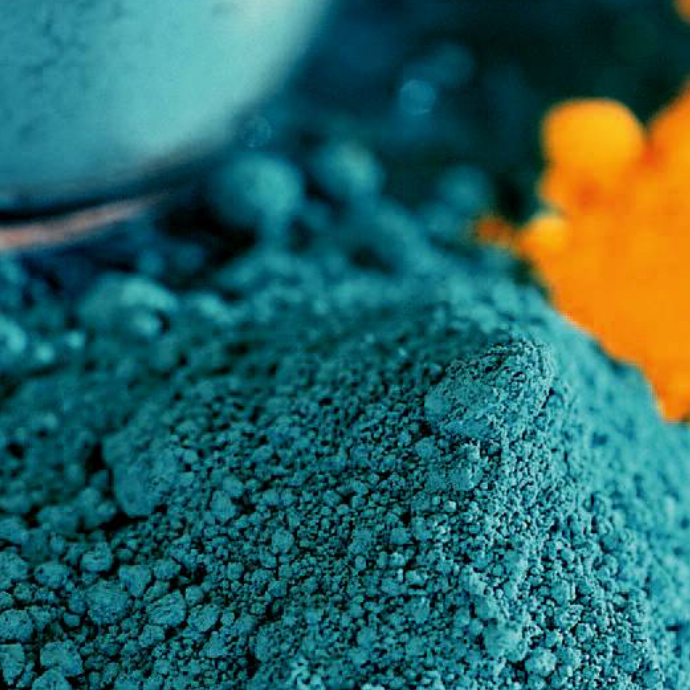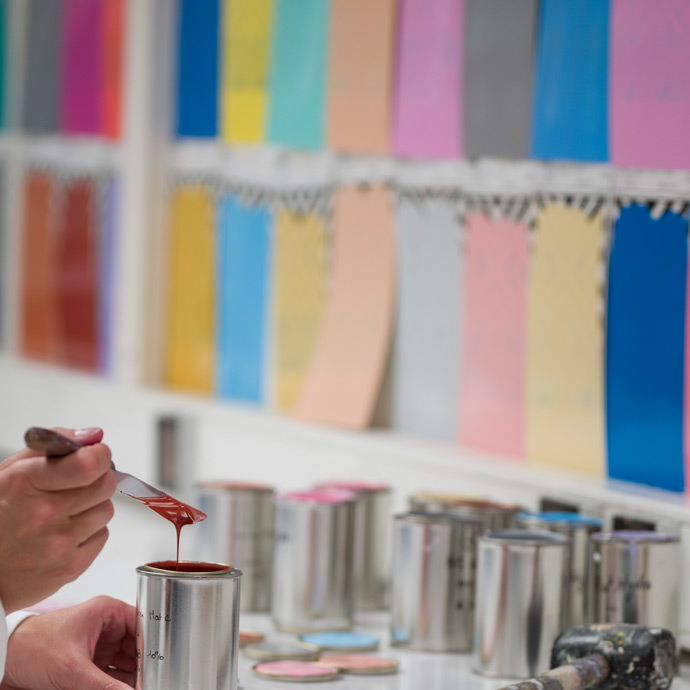 Know-How in Colorimetry of our R&D laboratories
We integrally manage formulation and production of all of our colorants for a perfect & long-lasting color.
We design and produce them in our Tinting System Center of Excellence, Toscana, Italy.
With their expertises in physics and in chemistry, our engineers define colors, precisely repeatable through notably three measurable parameters: hue, lightness and saturation.
They strive to create pallets of tints, including effects of lights and shades, chromatic contrast, perspective and also interactions between light and material.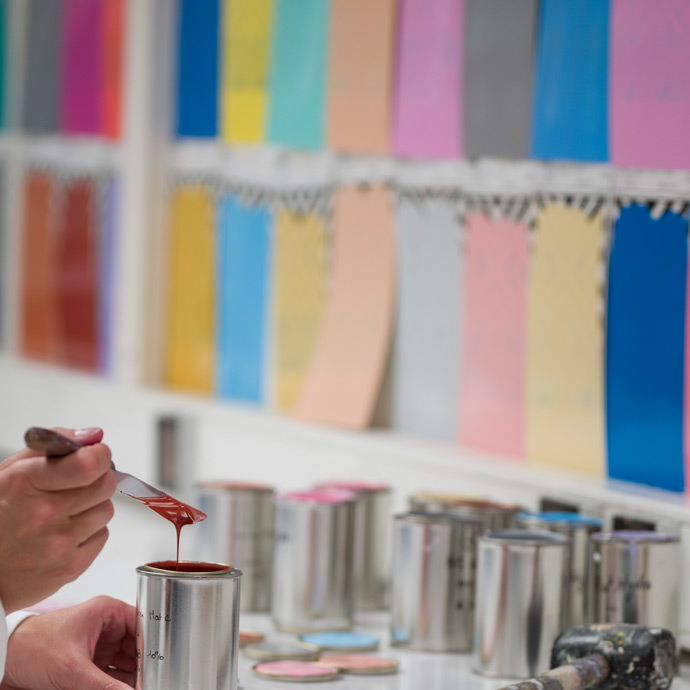 A Production Cycle ensuring Colour Consistency
Our production teams are able to manage production cycles of paints in large-scale volumes respecting the consistency of the required color.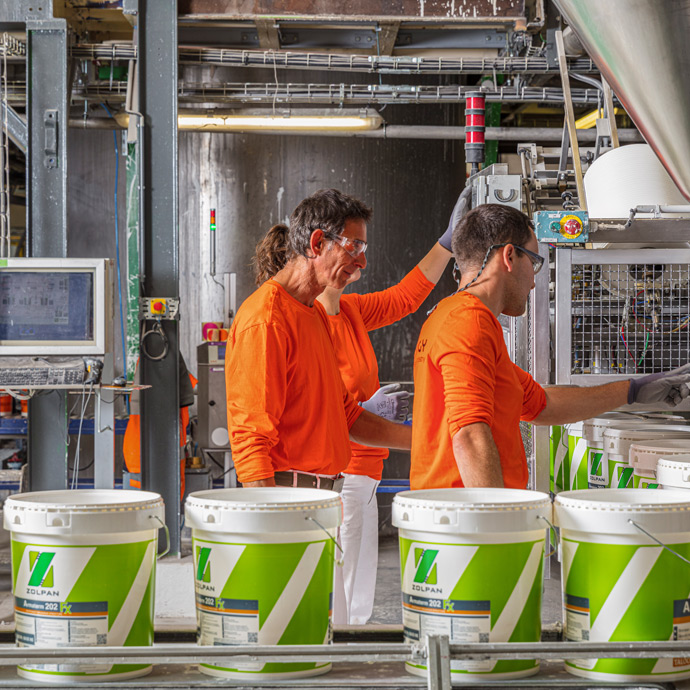 Color advice in our Points of Sale
In our Points of Sales and Show-rooms, our teams of experts in color help our clients in choosing colors and their combinations.
They deliver advice and tricks for a personalized choice in a color palette chromatique satisfying desires and needs of the client for his project.
Thereafter they will be able to reproduce a wished color among the color spectrum, i.e. more than 2 millions colors.
To achieve, in addition to their knowledge both in aesthetic and in color & formulation technics, the team manage the use of our tinting system, consisted of a machine and a software forming a cutting-edge technologic process regarding accuracy.
A client visiting one of our Points of Sale can quickly obtain the paint in the desired color ideally relating to his Deco project.
Our partners
« color trends »
Cromology Fandeck
Seeking out the perfect colour, the one which will improves home and work environments, in harmony with taste and personality of people who live in them.
To achieve, the fandeck is the most indispensable tool to choose the perfect color, according to the surface it will be applied on, the desired finish, the light and shadow effects, of chromatic contrast, even perspective.
Our fandeck is born from the combination of all of our color experts' knowledge, from all countries, throughout a year in partnership with major partners: Lidewij Edelkoort' team, well-reputed fashion and future trends forecaster, who help us creating the 300 colors of tomorrow and Duha, the company for 10 years print our fandeck with a finish that respects the final product on printed paper.
In a nutshell
1,236 shades were selected amongst the most appreciated by the market, without forgetting timeless as well as tomorrow's classics. Included are a wide range of shades of white and a large selection of pastels. All these colors are replicable no matter the substrate, thanks to our tinting system. The fandeck includes a color organisation structure, to visually highlight the chromatic palette. 700 shades to be applied in exteriors.
Find our Cromology Fandesk in all Points Of Sale of our brands Tollens and Zolpan and by our independant distributors.