Employee portraits
Our employees are in the best position to talk about their experience within Cromology. Check out their testimonials.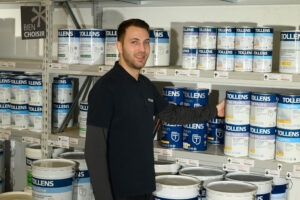 « I like selling technical products. I'm constantly " growing " between more experienced colleagues and the feedback we get from our professional painter clients on how they use our products on their worksites." »
Thibault
Point of Sales Associate at Tollens
What do you like about your job ?​
I like to sell a product that I really like. I have a strong interest in the technicality of the decorative paint we make, as well as the flooring and wallpaper we sell. It's interesting to have a job that allows you to learn new things every day.