"Sustainably protect and color living spaces to brighten up everyone's lives".
Cromology's purpose motivates its employees every day to design, produce and distribute decorative paints that offer the best value for money.
Decorative painting brings colors and textural effects to our immediate environment. It protects against wear and tear from weather and time. It infuses calm and warmth into our interiors. Applied on facades, it enhances the architectural and cultural heritage of our towns and cities.
Cromology thus help sustainably maintain homes, individual or collective properties and enrich its clients' quality of life and well-being. These beliefs make employees proud to wear its brand colors and values. They also engage Cromology to be a company that is even more responsible and innovative.
Therefore, Cromology decided to put our Corporate Social Responsibility (CSR) at the heart of its business strategy, as well as profitable growth and professional experience.
Henceforth, in an ongoing drive for improvement, we integrate our "CSR" targets into both our business conduct and new project launches.
Cromology has set 2023 targets around 5 key CSR issues:
Human Resources: Enabling employees to overachieve & grow, professionally & personally;
Business Ethics: Fostering maximum integrity & compliance within the organization;
Health & Safety: Providing healthy working conditions for employees, clients & subcontractors;
Environment: Minimizing the environmental impact of Cromology's operations;
Paints & Colors: Innovating to offer more user & environmentally friendly paints & colors.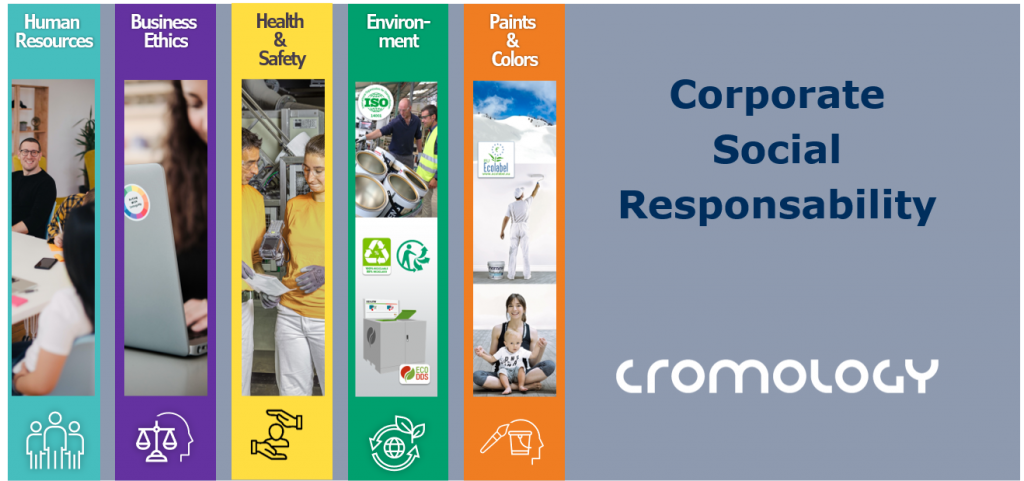 Cromology's commitment to CSR aligns with the UN Sustainable Development Goals (SDG). Cromology has identified the five relevant SDGs for its activities.
Good Health and Well-being (Goal 3)
Gender Equality (Goal 5)
Decent Work and Economic Growth (Goal 8)
Responsible Consumption and Production (Goal 12)
Climate Action (Goal 13)
Building on this, Cromology is committed to pursuing responsible and sustainable performance to maximize its created value for all stakeholders.