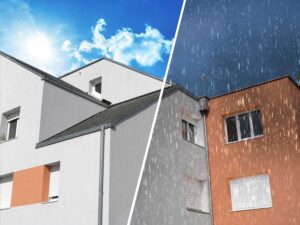 This "rainproof" paint is much faster than a conventional paint thanks to its new generation hydrophobic resin.
​​​​​​​Product benefit for the painter: he can work in any season on façade sites because he can apply this paint outside in uncertain climatic conditions. After a few tens of minutes, the paint resists even to an intense rain.
The different versions of the all weather paints are available in the Tollens and Zolpan Points of Sales and and the ones of our Independent partners Plasdox.